We are pleased to be working with composer Eli Tamar, soprano Charlene Canty, countertenor Andrey Nemzer, and organist Nicholas Will on the release of an album of baroque, romantic, and contemporary works inspired by and dedicated to St. Francis of Assisi.
The album will feature performances by Charlene, Andrey, and Nicholas of settings of the Catholic hymn "Stabat Mater Dolorosa." In addition to works by Vivaldi, Rossini, Haydn, Traetta, Boccherini, Pergolesi, Poulenc, and Dvořák, the program also includes three works composed by Eli for each of these performers.
Eli Tamar
Eli Tamar is a composer whose music has been praised for its expressiveness and emotion.
A native Russian, Eli grew up in Isreal before moving to the United States and eventually becoming a professor at the Mary Pappert School of Music at Duquesne University in Pittsburgh, PA.
His work has been performed in many prestigious venues around the world, including the Prokofiev Museum and the Jurgensen Chamber Hall in Moscow, the Carnegie Music Hall in Pittsburgh, and the Yad Labanim Museum in Tel Aviv.
Charlene Canty
Charlene Canty has built a reputation as a force in the operatic and sacred music genre, with a voice that has been described as "sumptuous," "beautiful," and "bright and powerful."
An award-winning and versatile soprano, Charlene's resume includes performances in Puccini's La bohème, Handel's Messiah, Gershwin's Porgy and Bess, and Mozart's The Marriage of Figaro, among many others works.
Charlene was awarded the Homer Wickline and Conrad Seaman Memorial Fund award, as well as the Opera Columbus Irma M. Cooper Vocal Competition in 2003.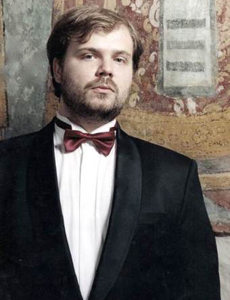 Andrey Nemzer
Andrey Nemzer is a countertenor who has held soloist roles with many acclaimed opera houses and orchestras.
A winner of the 2012 Metropolitan Opera National Council Grand Finals, Andrey's voice has been lauded for its range and flexibility.
Notable performances by Andrey include Orff's Carmina Burana with the Pittsburgh Symphony, Strauss's Die Fledermaus with The Metropolitan Opera, and Picker's The Fantastic Mr. Fox with the Opera San Antonio.
Nicholas Will
Organist Nicholas Will has performed as an accompanist, recitalist, soloist, and conductor with a number of reputable orchestras and musicians across the country.
Nicholas won the André Marchal Award for Excellence in Organ Performance from Duquesne University in 2008 and the Dorothy DeCourt Prize in Organ from the Peabody Conservatory of MUsic in 2011, and has performed in the Notre Dame Cathedral in Paris and the National Shrine of the Immaculate Conception in Washington, DC, among other notable venues.
To hear some of Eli's music featuring Charlene, Andrey, and Nicholas, check out the two performance videos below. Stay tuned for more updates!