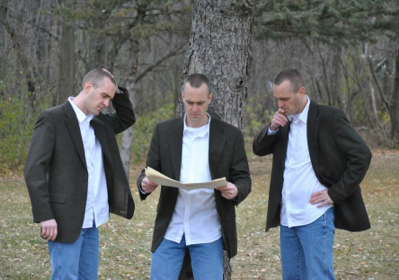 L-R: Heath Mathews, Heath Mathews, and Heath Mathews
PARMA is pleased to welcome composer Heath Mathews to our roster of artists. 

Heath earned his bachelor's, master's, and doctorate degrees from the University of Minnesota. 

In addition to composing, teaching, and playing guitar, Heath currently works for MakeMusic in Boulder, CO as a music production engineer.

Heath will be recording and releasing "Digressions," an energetic piece for saxophone and marimba that makes heavy and creative use of extended techniques, complex rhythms, and non-traditional pitch sets. 

From the program notes:

Digressions for soprano saxophone, alto saxophone and marimba was written for Duo Zeno (Preston Duncan – saxophones, Scotty Horey – percussion). The piece was premiered by Duncan and Horey at the 2012 North American Saxophone Alliance Biennial Conference held at Arizona State University in March of 2012. Overall, the piece is an exploration of musical texture and rhythmic diversity. The fast opening material helps to provide a grounded framework for the digression and departure of the middle sectional. The composition was inspired, in part, by the virtuosic capabilities of Duncan and Horey.

We'll be entering the studio with Heath and Duo Zeno to record "Digressions" later this year. In the meantime, you can check out a live performance via the YouTube player below. For more information about Heath and his music, visit his website here.